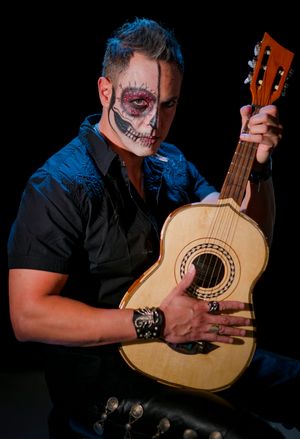 Tequila Rock Revolution is the brainchild of Austin Latino Rocker/Electric Violinist Haydn Vitera.  The show is a metal-fueled, Mariachi-infused spectacle of sight and sound paying homage to the tradition of Mariachi through an unprecedented fusion with modern metal and electronica. 

Donning traditional Mexican sugar skull face paint, the 10-piece supergroup features some of Austin's premiere Latin Rock and modern metal musicians alongside some of San Antonio's most talented Mariachis.  Picture the machine gun rhythms of vihuela firing over a bed of intense dubstep grooves, requinto trading licks with shredding lead guitar and Mariachi strings joining forces with 7-string electric Viper rock violin.  Mariachi standards and well-known metal/rock covers are weaved into a performance rife with dark imagery and Mexican folklore and brought to life with incredible lighting effects and stunning video.  

The band originated as a collaboration between Haydn's original American Latino Rock project VITERA and Vanessa Del Fierro's all-female Mariachi Las Coronelas.  In August 2014, VITERA was scheduled to open an Austin show for LA-based metal Mariachi group Metalachi.  Haydn and Vanessa had met a few months before and had discussed joining forces in the future..and this was the perfect opportunity.  There was immediate musical chemistry between the Rockeros and the Mariachis and the crowd took note.  It was obvious there was something special in this new fusion of sounds and styles.  

The original lineup of TRR played several shows including Stubb's Austin and a headlining slot at the Waco Cultural Arts Festival in 2015.  After a long break due to conflicting schedules between Vitera's and Del Fierro's respective groups, the band was re-imagined in 2016 with a decidedly more metal edge.  Vitera entered Austin's 512 Studios and began recording what would be TRR's first single, a "metallized" version of the Mariachi showstopper "El Cascabel" featuring traditional instruments along with Vitera's signature rock violin and a nice dose of EDM/Dubstep contributed by Keli Marks of Bassline Drift and Gravitas Recordings.  

"El Cascabel" is available on all digital platforms now!